Elevated Design and Quality Craftsmanship.
Thoughtfully designed and crafted to elevate any bedroom. Our beds achieve the perfect balance between contemporary styles and calming collections for a tranquil environment.
Create your own sanctuary with a modern and lifestyle-enhancing bed to recess to after a long day.
Select from a variety of uniquely constructed bed frames. The clean lines, subtle curves, and quality materials of our bed frames provide you with a variety allowing you to design your ideal bedroom—one that promotes relaxation while also providing the look and functionality you crave.
Bed Frame and Base Options
Hardwood Frames
Enjoy the elegant look of our hardwood frames. With a clean style that is modern, yet classic, our wooden bed frames are constructed of high-quality and long-lasting hardwood that will stay sturdy and beautifully timeless throughout the years. We offer frames sustainably constructed of Cherry, Walnut, and Maple. We provide frames sourced from Copeland, as well as Amish craftsmen, both known for their small-batch and sustainable production practices.
Additionally, hardwoods are sourced from responsibly managed forests to maintain a completely renewable and eco-conscious bed. Each piece is inherently unique, featuring the gorgeous grain patterns and characteristics of natural wood. The sleek sophistication and sturdy construction of our frames provide the support you and your rejuvenating sleep need while keeping your bedroom looking and feeling like your ultimate sanctuary.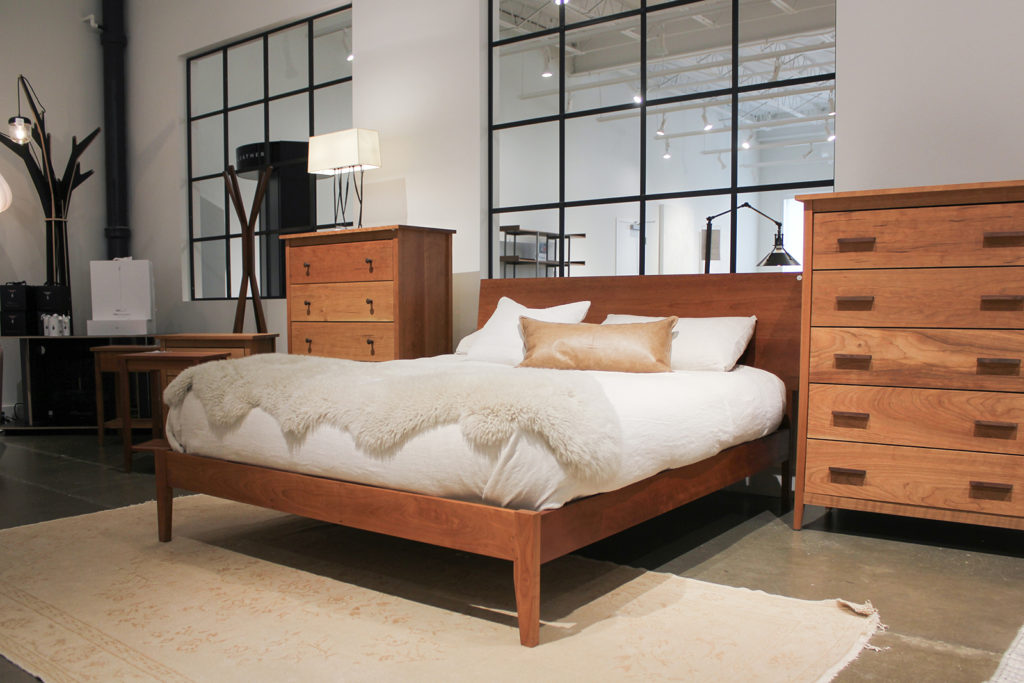 Loon Upholstered Bed
When you think of a feather bed and how luxurious the sleep will be, you can imagine our cozy and refreshing Loon bed. The two extra-large pillows are attached with tie-offs and make the perfect headboard to sit up in bed and watch TV, read a book or play on your phone. Available in two cozy covering options of cream linen or heather grey chenille.
YES, please send me more information about Bed Frames and Bases!
This is just a sample of all we have to offer. Have a specific bad frame or base in mind or would like to see more?
Give us a call at 802.862.7167, come Visit Us, or fill out the form on this page to request more information.